While at the Luisaviaroma event in Florence I met Mathieu Lebreton, one of the creators of the major French fashion site ykone.com. Here is an interview with me (in French) on that site.
Click "read more" to see the English translation.
我在Luisaviaroma的活动在意大的时候认识了做这个法国网站的人。他们后来就采访过我(法语)。
Posted on January 29th, by stylites in Uncategorized.
2 comments
Givenchy hosted a show with all Asian models, many of whom are well-known faces here in China like Du Juan and Liu Wen. I am trying to determine whether or not this is the first time for something like this.Givenchy Haute Couture 2011模特用的全是亚洲人,包括杜鹃以及其他的中国模特。
Everyone always asks me how I can ride a bike in such cold weather and I respond that only my face and hands are really cold. To hold to my anti-automobile principles, I think I will have to get a mask. Maybe he should get a hat.
大家都问我北京这么冷,我怎么还能其自行车。其实汽车的时候只有手和脸真的感觉特冷。我得买个口罩。
Posted on January 27th, by stylites in Uncategorized.
1 Comment
My workload and the cold weather are stopping me from taking more street style pictures. Still, I am adding some new content to stylitems: reviews of interesting shops in Beijing, Shanghai, and Hong Kong. The first is an old favorite that I am always surprised to hear some people don't know. Check back on stylitems regularly.Stylitems上面最近会有新的店铺评价关于北京,上海,香港的一些有意思的商店。第一个写了是798的非空间。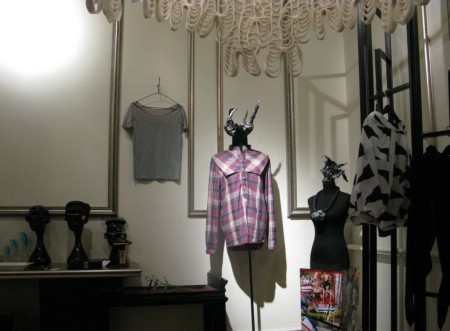 Say "concept store" to a hip Beijinger and they will inevitably respond with "check out FEI Space", though this 798 shop's eclecticism and location (a refurbished factory) make it feel more like a genteel flea-market. A major draw are the ceramic designs of co-owner Lin Jing, which ranges from trouser-shaped vases to paired-down teapots. Curating fashion, Creative Director and stylist Ray P. Lee offers international favorites Bless, Henrik Vibskov, Gareth Pugh their China debut, while Zhang Da, designer of Hermès' new Chinese label Shang Xia, puts forth his experimental Boundless line. Not confined to the current moment, the antique furniture and leather bags – goodies like bicycle satchels and chairs reupholstered in vintage curtain fabric – inject a dose of heritage nearly absent from the Beijing retail environment. FEI is the perfect space for the modern fashionista or interior decorating buff for whom cleverly retro and tastefully revolutionary can be combined to get chic. Contact Information: B-01, 798 art district, 4 Jiuxiangqiao Lu, Chaoyang district Tel: + 86 10 5978 9580
假若您向一位在京的时尚达人提及"概念店",想必得到的回答定是"去非空间看看。"虽然这家位于798艺术区,并由废弃工厂所改造的店铺,更像齐集了各种优雅小物件的跳蚤市场。这里的一大看点是店主之一的林菁所做的陶瓷设计,从裤子形状的花瓶到配套的茶壶,尽显当代陶瓷艺术的魅力。创意总监和时尚策展人Ray P. Lee也让他青睐的众多国际品牌,有机会与中国顾客见面,例如Henrik Vibskov、Gareth Pugh等。而爱马仕旗下品牌"上下"的设计师张达,也将其品牌Boundless放置于店中售卖。如果您想再搜寻些古董物件,这里的古董家具和皮包也能满足您的需求。这些已然日益从北京普通小店中消失的,极具传统文化气息的物件,无疑将是复古达人们的心头之好。
Posted on January 25th, by stylites in Uncategorized.
1 Comment
I recommend this piece from the WSJ blog for more detail on the night.WSJ写的(英文)关于prada的活动。强调了宠物店男孩Go West的新视频。
A marketing director, Fan Jiang makes big things happen at the biggest men's magazine.
他在个很著名的男装杂志做市场经理。
Some very interesting sportcoats were on display at the Prada event.
这次Prada的活动有些有意思的西服。
Jeffrey scanning the catwalk at the Prada show last night.
应捷在看舞台。
Mega Mengmeng was at the magnificent Prada party yesterday. She is a Petshop Boys fan. More from AFP on the event.
Recently back from studying in the UK, Sophie just started as an editor at a major fashion magazine here in Beijing.
刘小姐刚从英国回来,现在在时尚杂志工作。
Posted on January 21st, by stylites in Uncategorized.
No Comments
The Petshop Boys will not find the air particularly free here and will be very lucky if the skies are blue, but a crowd of very stylish will be welcoming them to this promised land where the pace is much faster than back West.
Prada has invited the British electro-pop duo to give a special performance after a fashion show that will re-present the SS '11 collection of the brand and include some new items designed specifically for the event.
With this event at the Central Academy of Fine Arts (CAFA) Museum tomorrow night, Prada follows the lead of Phillip Lim, Fendi and others who have given special, high-profile, shows in China aiming to woo their most important, fastest growing, new market. Prada China sales rose at an almost violent rate of 51% in the first nine months of last year, so the mood for Prada CEO Patrizio Bertelli and designer Miuccia Prada should also be celebratory.
51 percent surge in revenue from the region in the first nine months of 2010, is planning to restage its Spring 2011 fashion show in Beijing on Jan. 22. Both Prada CEO Patrizio Bertelli and Miuccia Prada are expected to attend, and Prada plans on creating … Read More »
At the Fendi event the other day, Kiera Ren is the fashion editor for Fashion Weekly.
在Fendi的活动,任芳慧是《风尚志》的时尚编辑。
Taxidermy is nothing new and animal parts have been used for centuries as ornament. Therefore, it should be no surprise when Chinese-born, Finland-based Shumeng Ye, unveils a porcelain chicken claw. Conceptual in its approach but still visceral, this porcelain chicken claw is elegantly done in glazed off-white porcelain and can be a singular accessory for a fine dinner party.
These are available at Nouveau-Riche. – Jeffrey Ying
剥制术并不新鲜,而动物的身体部分也曾长时间被用来作为装饰。因此,当在中国出生,目前生活于芬兰的设计师Shumeng Ye制作出一只瓷器鸡爪时,就不足为奇了。这只瓷器鸡爪用釉面白瓷做成,优雅而特别,非常适合佩戴至高级晚宴派对。可以在"暴发户"买到。
-应捷
For the understated, humble, man these – would one call them peacock opera pumps? – loafers are by Haider Ackerman, the Colombian born, Belgian educated designer that Karl Lagerfeld says could be his successor at Chanel.
这双孔雀毛鞋是Haider Ackerman的设计。可能适合一个又低调又漂亮的男人。
---