Mega Mengmeng in Masha Ma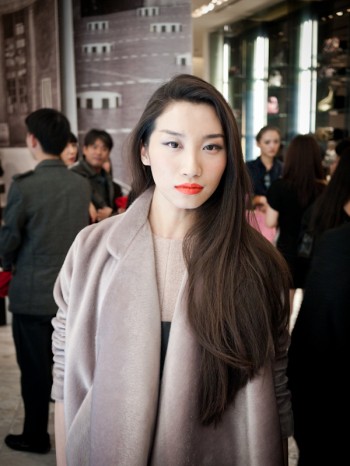 Also at Lane Crawford, fashion writer and stylist Mega Mengmeng is wearing a coat from a series that she is designing together with Paris and Shanghai based Chinese designer Masha Ma, called MegaMengMeng by Masha Ma. Here Mega Mengmeng is on a London street style blog.
Masha Ma, based between London, Paris and Shanghai, is one of the most famous fashion designers in China at the moment and she has received an amount of coverage in the Western media to match that distinction. In this Guardian article, the Central Saint Martins graduate who also worked directly with the late Alexander McQueen, explains the secrets to success in the exciting fashion market that is China – apparently the first trick is to embrace the chaos. Here are interviews on the Kering site, the South China Morning Post, and the Time website.
She launch a brand in 2008 and gained a great deal of attention for her industrial chic vision. Her collections are presented annually at Paris fashion week and she has worked directly with yoox.com and has participated in the CFDA/Vogue Fashion Fund China Exchange program. While still studying for her MA in women's fashion, Ma's graduate collection showed at the Vauxhall Fashion Scout during London Fashion Week and was later purchased a fashion retailer store opened by Jose Neves. Masha Ma was also a finalist in multiple competitions such as the Lancôme Colour Designs Award 2006, the Puma CSM Bursary Award, a design competition sponsored by Chloé, Fashion Fringe, and the 2009 CCDC China Contemporary Design Contest, where she won the amusingly titled 'Mouse Ji Best International Innovation Award'. There really are very few younger Chinese designers that have achieved such mainstream success.