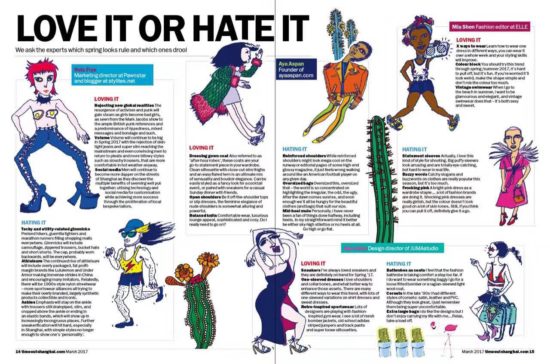 Time Out Shanghai asked me to come up with the trends for Spring 2017 that I like and don't like:
Here are "like":
1. Volume will…continue to be big in Spring 2017 with the rejection of skintight jeans and super slim reaching the mainstream and even convincing men to return to pleats and more billowy styles such as slouchy trousers, that are more comfortable in hot weather anyway.
2. Rejecting the new global realities, the resurgence of activism and punk will gain steam as girls become bad girls, as seen from the Mark Jacobs show to the ample British punk references and a predominance of rippedness, mixed messages, and bondage and such.
3. Men will continue to become more dapper on the streets of Shanghai and Beijing as the multiple benefits of seeming well put together are discovered, the proliferation of local bespoke tailors achieve more and more success and the benefits of technology and social media for customization are utilized.