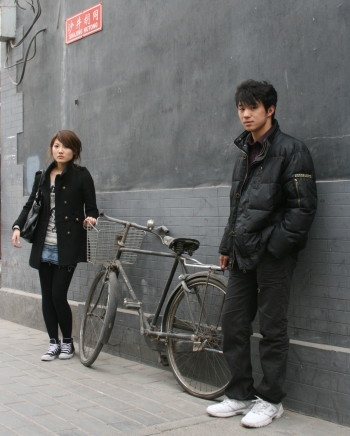 With all of the beautiful girls and handsome boys appearing, several people have suggested that Stylites double as a dating website. I will consider this option, though it can be difficult enough convincing people to pose without having to explain that they may be contacted by random romance-seeking strangers. This time, to forestall any curiosity, I am first adding a picture of this mini-skirted young girl with her man.
因为我的博客上有很多美女和帅哥,有人建议我把Stylites也变成一个交友网站。我会考虑的,但是有时候要说服别人给我pose已经很难。如果告诉她们可能会有追求爱情的陌生人联系她们,可能会更难说服她们让我拍照。这次为了避免让这些陌生人太好奇,我想先加一张这个穿短裙的女孩跟她的男友的照片。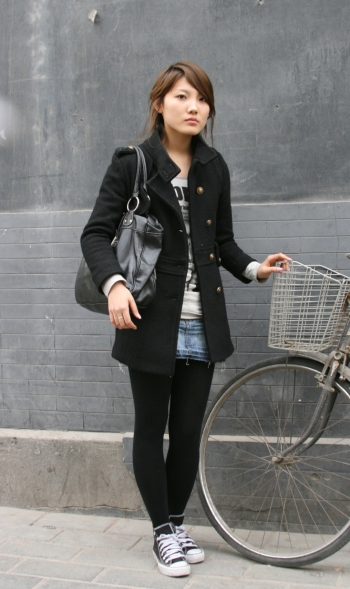 The skirt is surprisingly short, but does not seem risqué on her. In fact, her particular aura almost makes it difficult to notice that the skirt is so short. The military coat and handbag keep the look smart while the Converses and tee shirt are a rugged touch.
这条裙子超级短,但她穿着的感觉不会让人觉得太过火。其实她这种穿着风格让人很难会注意到她的裙子那么短。她的军装风格外套和皮包让她看起来很精神,同时她的裙子、鞋和体恤衫又带来一点粗狂的感觉。