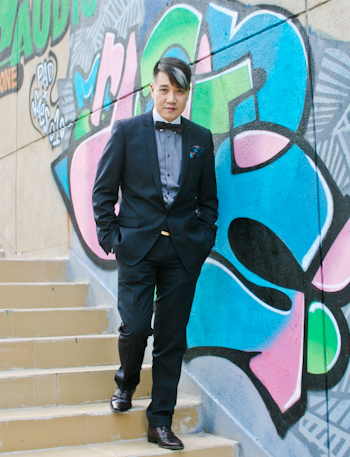 I always wish for managers of hotels, bars, and restaurants to have a certain glamour and something approaching a distinct personal style. Joe Ho and Francois Vanvi (above) are the only two hotel general managers I have encountered here in Beijing who look a bit like the hotel GM of my dreams. Francois was born in Paris and grew up there and in Hong Kong. He has been in Beijing for several years and is about to take over the opening of a new boutique property, the Hotel Éclat Beijing, in that new triangular structure called ParkView Green. Recently, I asked Francois a few questions about style and being a GM.
Francois Vanvi原来在北京千禧酒店,马上就要当新开的北京侨福芳草地里面的Éclat精品酒店的总经理。Francois是法国跟中国的混血,在巴黎出生长大但在香港生活了很长时间。他在北京有五年了。
NF: You dress like a GM, but add a bit of your own flare. Does this relate to the environment that seek to create in the new hotel?
FV: This has been my style for years. I believe it blends professionalism with style. I hope that my look and attitude reflect a new generation of General Manager. You don't have to wear 'boring clothes" to be professional in the year 2010. The Éclat will be very different from other 5-star hotels with a strong focus on art and lifestyle, which suits me very well. For boutique hotels, the GM really must be the "soul" of it all.
NF: Is it important to have your staff dress stylishly?
FV: Yes, but more importantly, in a way that is proper for the environment. Their style should also be reflected in their charisma and personality, not just on the "outside".
NF: What sort of people do you expect will stay in the Éclat Beijing?
FV: Senior management in fashion companies, art lovers, entertainers, artists, designers -altogether it will be a special bunch that appreciates the environment, chemistry and services that we will offer.
NF: Any style advice for Beijing man?
FV: Don't cover yourself in designer labels. Everybody is different. Look at lifestyle or fashion magazines to get ideas and a point of reference, but try to understand what is most suitable for you. Dress appropriately for what you do or for the event you are attending. Not only what you wear is important – hair style, shoes, the way one carries oneself – these are all equally vital.
NF: Alright, just to conclude, we would like to know where in the city a stylish guy like goes to shop, eat, drink, etc.?
FV: I like small restaurants and don't require super design and flashy decoration. I like Face Beijing, Cafe Sambal, Gourment HKG style cafe in Central Park, 1949 the Hidden City, Va Va Voum Vietnamese, Amelia, Carmen, Let's Burger, Macau Hot Pot, For genuine HKG taste food/cuisine- I like Yao CHi @Grand Millennium, Fortune Court of Beijing HKG Royal Jocket Club. I have more…. Beijing has so many good choices and venues.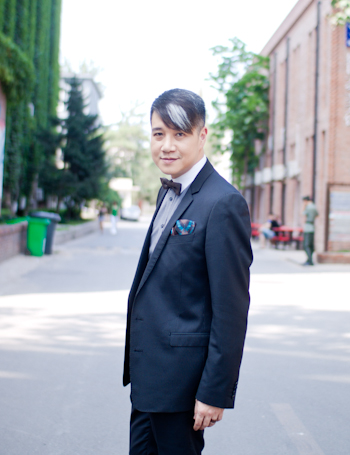 Francois Vanvi原来在北京千禧酒店,马上就要当新开的北京侨福芳草地里面的Éclat精品酒店的总经理。Francois是法国跟中国的混血,在巴黎出生长大但在香港生活了很长时间。他在北京有五年了。
NF: 为什么你穿得跟其它的酒店总经理不一样?这个跟新酒店的环境会不会有影响?
FV: 不,这是我多年来的风格。我认为我的着装依然很职业、有度,外加一点时尚而已。我并不是那种很传统的人,但我始终对自己有着很专业的把握。这就说明我是新一代的酒店总经理。2010年,你也不必穿着那些"无聊的服饰"来显示自己的职业气息。
相较于其他五星级酒店来说,这个新酒店将会面临很困难的前景。因为它是一个高端精品酒店,拥有着非常浓厚的艺术和生活品味的元素。这样的酒店非常适合我。对于一个精品酒店来说,总经理才是所有组成的灵魂所在。
NF: 你也会要求你下面的员工穿得很时尚吗?
FV: 是的,我所要求的是格调高雅又不失得体的酒店氛围。他们同样应拥有非凡的领导能力和独特的个人性格,这一点往往超越了其他酒店。
NF: 你觉得什么样的人会住你马上要开的酒店?
FV: 时尚人士,主流品牌的高级主管,热爱艺术的人,娱乐圈名人,艺术家,设计师,和一切对于生活有着高雅品位的人。他们将会是一个能够欣赏我们所提供的优质环境的特殊人群。
NF: 在穿着方面有没有什么建议想给北京男人?
FV: 不要把自己禁锢在一些大牌设计师的品牌中。每个人都有自己的风格。看一看品味生活或者一些时尚杂志,它们往往会给你一些不错的想法和推荐。一个人要了解他自己。个人风格和其魅力所在才是最重要的。穿着一些合身、洁净的衣服,并根据不同场合选择不同着装。不仅仅衣服是重要的 – 发型、鞋、还有你看待自己的方式也是同样至关重要的。
NF: 你在北京最喜欢哪几个商店,餐厅,酒吧,画廊,等等?
FV: 我喜欢一些小餐厅,那种并不需要专门设计、装潢华丽的餐厅。比如Face Beijing、萨伯咖啡(Cafe Sambal)、位于中央公园的香港风格咖啡馆Gourment、1949西餐厅(1949 the Hidden City)、越﹒时代(Va Va Voum)、Amelia、卡门(Carmen)、香港汉堡(Let's Burger),澳门豆捞(Macau Hot Pot)。还有一些很好的港式餐厅 – 千禧公寓的Yao Chi餐厅、Beijing HKG Royal Jocket Club里的Fortune Court餐厅,其实还有很多。北京有很多不错的选择,你只需去体验不同的自我。