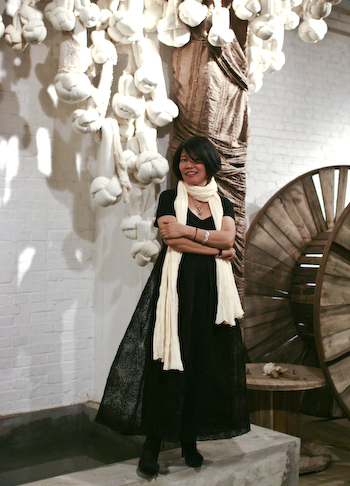 As mentioned, Li Xiaoyan won the gold prize for the best spring/summer collection at China Fashion Week 2009. She gave me the scarf after the photo, which was taken in her studio. Born in Taipei, Miss Li arrived on the Mainland in 1994. She has designed for a whole range of labels before her current one, Fangfang, and the focus is on 100% cotton and natural colors.
拍完照,2009时装周最佳设计师李小燕小姐把她在图片里戴的围巾很大方地送了我让我永远记住她这次时装周的装秀。她在台北出生长大的,1992毕业于台北暨南大学文学院,1994到了广东。她已经做过几个凭牌的设计总监包括"芳莹"、"法碟"、"如意坊"、"Marvel"、"伴尼"和现在的"芳芳"。李小姐特爱纯棉,今年也继续了这个主题。所有的衣服是浅米色。她的设计也反映她对环保和健康的态度。她也是个天天汽自行车的人。
Sorry for the lag time that sometimes occurs between the photos being taken and their appearing here. Photos taken for my column in Modern Weekly must first appear in print.