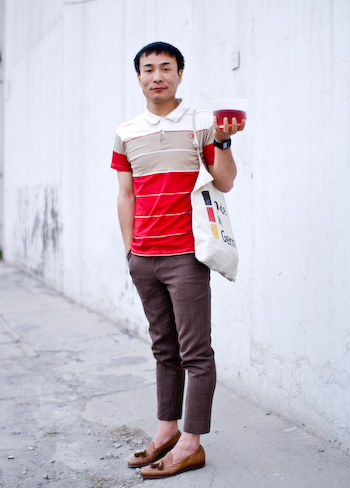 Having a drink, vintagy photographer Zhang Zheming is founder of his own studio, called Furious, which is engaged in design of print advertisements as well as shoots for fashion magazines. He previously worked for J. Walter Thompson, Ogilvy & Mather Advertising and other 4A advertising agencies. I chatted with him about fashion in Beijing.
摄影师张哲明曾就职于智威汤逊、奥美等北京4A广告公司,任美术指导,2007年在中央美院摄影系进修,随后创立Furious摄影工作室,长期从事平面广告及时尚杂志的拍摄工作。
NF: What sort of style do you like and what do you like to see girls in?
ZZM: Vintage, Vintage
NF: Where do you find style inspiration?
ZZM: Mainly from foreign street style blogs like jjjjound.
NF: Any style suggestions for Beijing men?
ZZM: Find a style that suits you. If you can't find the right clothes then have them made. Always have a skillful tailor alter clothes bought off the rack so that they fit properly.
NF: Aside from what you shoot for work, what do you like to photograph?
ZZM: My dogs, cats and friends.
NF: Where do you shop, eat, drink, etc. in Beijing?
ZZM: I get most clothing from second-hand shops in Thailand, though I also shop at some vintage shops near Gulou, UNIQLO, and Ben Sherman.
Restaurants like the Xiaoxiao, Yue Bin, Pastarit. I also go frequently to the coffee shop "Bean" at Pingguo Shequ.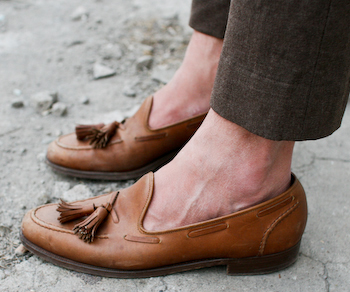 This pair of Italian-made shoes were formerly worn by his girlfriend's father
这双鞋是意大利制造的但是是他女朋友父亲以前的鞋后来给了他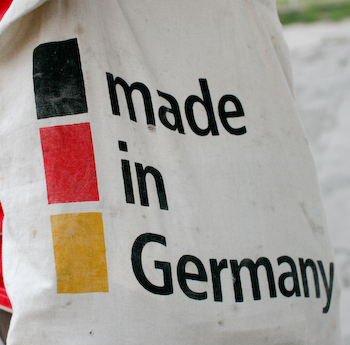 This bag is from a second-hand market in Beijing.
这个包是在北京的旧货市场买的
NF: 你最喜欢穿成什么样的风格?最喜欢女孩子穿什么样的风格?
ZZM: Vintage, Vintage
NF: 你的穿法是在哪里学的(杂志,朋友,等等)?
ZZM: 主要是看国外的街拍网站,比如jjjjound等
NF: 在穿着方面有没有什么建议想给北京男人?
ZZM:找到最适合自己的风格最重要,买不到合适的就做,做也不行就先买回来再找魔鬼裁缝改成合适自己的。
NF: 除了工作拍的东西以外,你还喜欢拍什么?
ZZM: 拍我自己的狗和猫还有朋友们。
NF: 你在北京最喜欢哪几个商店,餐厅,酒吧,画廊,等等?
ZZM: 衣服基本都是去泰国的二手店买的,在北京只去鼓楼那边的古着店和UNIQLO、Ben sherman, 餐厅喜欢小小、悦宾、Pastarito, 咖啡馆经常去苹果社区的"豆"。