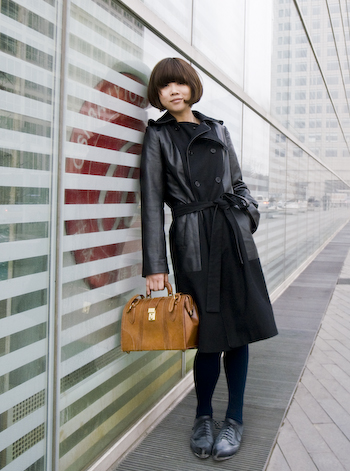 After graduating from Central Saint Martins in '08, Northeastern girl Vega Zaishi Wang is now in Beijing with her own label. Stylites intern Yu Wu interviewed Vega.
从东北来的VEGA ZAISHI WANG在伦敦学了7年服装设计。原来她想呆在英国但后来,因为想家人,就回到了这里发展。她去年在见外SOHO开了工作室。Stylites采访了她。

Y: What are some of the key features of your designs? Upon which tropes do you rely most heavily?
V: My designs are generally succinct and linear. I prefer handcrafting and natural things.
Y: Which fashion designer do you most admire? What type of fabric do you like most?
V: Ann Demeulemeester. I like natural fibers like wool and silk.
Y: What do you think about style in Beijing?
V: Most people here still go after namebrands. Beijing is a multifaceted place, but it is still only a minority that understands what it wants style-wise.
Y: From whence came the inspiration for your graduation collection? I'm curious about how your beautiful designs were able glow?
V: I tend to express my emotional state through my designs. The items in my graduation show used E.L lamps or Electroluminescent Light – thin, flexible and energy efficient lights embedded in the fabrics.
Y: Where can your designs be purchased?
V: In Beijing, you can come to my workshop. Others can go to my taobao store.
More on Vega here.
Y: 你的设计有什么特点?什么元素是你最常使用的?
V: 相对来说我的设计比较简洁有线条.我喜欢手工和自然的东西
Y: 你最喜欢哪个服装设计师?哪个面料?
V: Ann Demeulemeester,喜欢天然的面料羊毛,丝绸,等等。
Y: 你对北京的穿着有什么想法?
V: 大多数人还是比较喜欢追求时尚品牌吧,北京是一个多元的城市, 还是有小部分人明白己想要什么。
Y: 谈你的毕业设计的灵感如何?我很好奇你怎么让那么漂亮的衣服都发光的?
V: 有情感的变化会让我想在我的服装上表现。我的毕业设计里面发光的材质是冷光片英文简写 EL。每件衣服都通了电,所有会发光。
Y: 那么现在如果人们想买你的服装应该去哪里呢?
V: 北京有家店。外地的可以来我的网店在淘宝。