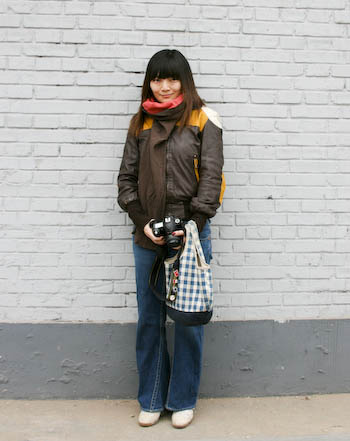 Yet another little girl wielding a huge camera on Nanluoguxiang…Not long ago, any type of digital camera was a status symbol, but I fear that soon, not taking photos will be elitist thing to do, though of course we have to pass through the lomography phase first. She wears a vintage leather jacket and works in Edelman, a PR firm founded in Chicago and one of the few that is not part of the massive WPP Group. Former PR account executives appearing on Stylites all worked in subsidiaries of that group. We've had a young punk from Weber-Shandwick, funky Sabrina (here again) of Ogilvy, a fellow in a long cardigan from tobacco-protecting Hill and Knowlton, cute Michelle from Burson Marsteller and crafty Yuanyuan, also at one time a BM employee.
Last October while walking out of Uniqlo on Broadway I happened to run into Wynn, grandson of BM founder Harold Burson. An aspiring fashion designer in NYC, he was wearing a jacket with shoulders that stretched about a foot beyond his natural ones in both directions. A year and a half earlier, I had the honor of hosting this young man on my couch here in Beijing.
The international firms in Beijing attract fashionable and worldly young people, women mostly. Excellent written and spoken English is a must for communicating effectively with the mostly foreign clients as is an ability to function effectively in the corporate world. A fine-tuned mastery of the corporate jargon is essential. The leveraging and picking of low-hanging fruit never ends in these offices. If you want to learn more about PR in Beijing, I suggest checking out Imagethief.