Posted on January 27th, by stylites in Uncategorized.
No Comments
Favorite of Beijing fashionistas, Beauty Berry by Wang Yutao just became the first Mainland Chinese fashion designer to show at Berlin Fashion Week. His trip and show were financed by Mercedes Benz, the main sponsor for Beijing and Berlin fashion weeks. More from the WSJ.
Posted on January 25th, by stylites in Uncategorized.
1 Comment
To coincide with the Dragon's onslaught, here are some tasty morsels from the global press and the China fashion blogosphere.
At WWD, Hong Huang (THE Hong Huang, I imagine) complains of schlepping through Europe's fashion weeks while her family is home enjoying dumplings and conviviality. She attributes scheduling that ignores Spring Festival to a paucity of Chinese buyers and multibrand department stores. Despite the purchasing power of consumers, Chinese brands stores and brands still lack clout.
Originality or its absence is related, Huang thinks. She cites the amusing predilection of Chinese for naming their brands after animals. Northeast Tiger, Baoxiniao (Happy Bird in Chinese) and Sept Wolves are major players who observed the early success of crocodile jerseys and concluded that animals sell.
Fashion-wise, she recommends red belts for all those born in the Year of the Dragon. As most will know, one must wear red in one's birth year to avert ill fortune.
The Year of the Dragon is bound to bring good things for Chinese Vogue, as one can surmise from this Irish Times interview with EIC Angelica Cheung. In 2011, China was third among the 15 international editions in revenue. One might have guessed first, given … Read More »
For the start of the Year of the Dragon, I decided to share my personal favorite images from the Rabbit.
This is just so much fun and what a great pair!
Photo: Suzy
Perhaps there is a bit too much here and her taste may not be entirely unimpeachable, but there is something appealing about the eclecticism here.
I rarely put models up here, but this confrontational chinoiserie from a cosplay party was irresistible.
As was this dramatic coat from the same event.
And what a nice use of blue and lovely smile!
And here is some blue with pop!
Maybe it was the year that local fashionistas discovered blue and realized it is even more adaptable than black.
Thick frames and workwear were also major trends.
Behind this rather S&M look is the chemical tank at 751 that remained the most popular venue for fashion events this year.
An aggressive adrogyny kept appearing.
This was an interesting mixture of mostly items mostly from Western brands to create an effect that seemed undeniably Chinese, or perhaps Uyghur.
Retro florals were the thing to do.
Photo: Suzy
Chinese-influenced looks grew as a trend this year.
It was a year in which headlines constantly announced Chinese consumers were abandoning conspicuous consumption and logos. The new … Read More »
I am now on a well-known island chain southeast of Florida with my parents and infrequent internet access. Regular programming will return soon. My apologies for the paucity of posts.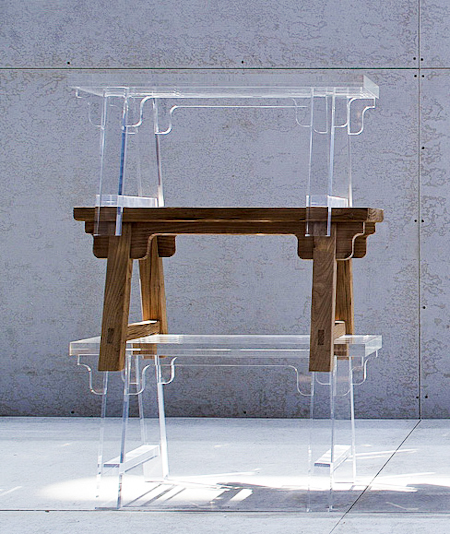 With China's design school churning out graduates and droves returning from the top schools abroad, the number of designers plying their trade has been increasing rapidly. Designer, curator, and entrepreneur Song Tao – a true mover and shaper – champions a fresh, but distinctly Chinese, aesthetic. Known for his product and interior design, Song is perhaps even more famous for the work he has done on promoting his peers.
Armed with a master's degree in plastic arts from the Sorbonne, Song returned home to found Tao Gallery, a design space, in 1994. In 2002, he started ZI ZAO SHE, a brand that promotes his designs alongside those of other rising stars. This brand is known for its re-interpretations of classic Chinese shapes in contemporary materials like lucite. Subsequently in 2009, he spearheaded the China Furnishing Designer Brand Alliance and founded O Gallery in Beijing's 798, a one-stop destination for viewing the work of China's top designers as well as that of top international stars.
Song has curated shows from the Ullens Center to Art Beijing with a participant list that reads like a who's who of contemporary Chinese design: Shao Fan, Sun Wentao, Liu Feng, Jia Li, Chen Darui, Ma Xiaowei, Wang … Read More »
2012 won't be a year of austerity and introspection on Stylites!
---