This is exactly how young ladies walking around the hutongs should look.
This interview by Brent Luvaas, Assistant Professor of Anthropology at Drexel University in Philadelphia, gives an overview of how Stylites evolved, in my words. Brent and I had a nice discussion over Skype and here he provides the main points. Brent is also the Co-Editor in the Visual Anthropology Review Department of Culture and Communication. He also runs the blog where my interview appears, Urban Field Notes. My thanks to Brent for featuring me on his blog!
Here is one more post about New Zealand Fashion Week. All the creative youngsters hanging around the grounds were one of the enchanting aspects of the week.
Chin Tay is one of the photographers for Four Eyes, Auckland's main street style blog.
Photos & Text : Suzy
Lane Crawford invited Stylites for a colaboration on to their 2012 celebration of Vogue Fashion's Night Out. Here is a little preview of a truly fashionable and fun night! More pictures are coming soon.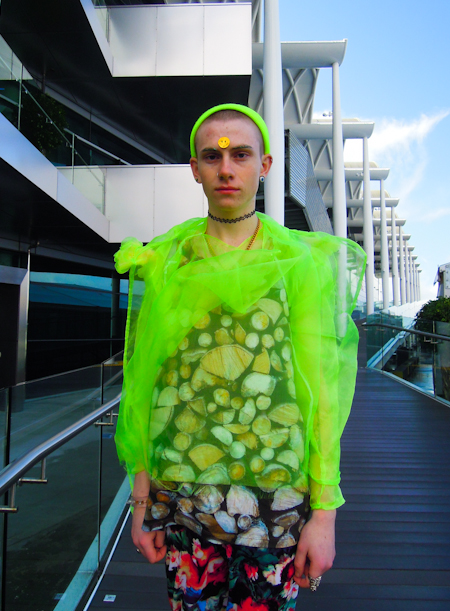 Even though my content here tends to focus exclusively on China happenings, I have think this time, the exotic nature of this locale warrant some coverage. After all, an attraction of Beiijng has always been that, unlike New York or Tokyo, one doesn't at once expect it to have vibrant street style and it has, in fact, recently awakend from a sort of fashion night. In some ways, Auckland is equally surprising just because one rarely thinks of it outside of the context of Lord of the Rings and such.
The fellow above is a design student who came for a few shows at New Zealand Fashion Week.
Photo & Text : Suzy
Quite the roaring shirt spotted at Nuandao's recent Wine & Design Event hosted by Sanlitun's Enoterra.
Photo : Eric Gregory Powell
The Shandong Provincial Government supports fun and fantasy. The 4th Shandong Cultural & Creative Industry Fair last week in Jinan brought hundreds of local cosplayers together, all extravagantly costumed. My friend, photographer Eric Gregory Powell was on hand to document the most gripping results.
Their Cosplay names are all listed, though I don't have time to do the research on the identities of all of these characters. If anyone knows, please add it to the comments.
Above is Xiao Ji (小叽).
Graphic Designer Tom Yang, down in Tianjin for the opening of boutique hotel Mingyuan no. 33 and Café Sambal, likes to let his wife, on his right, do the shopping. She really does a good job.
---